New Legal Definition of Misconduct: Understanding the Ramifications for Employers in New Jersey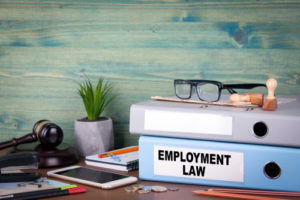 After eight years of confusion, the New Jersey legislature revisited its statutory definition of "severe misconduct" and made major modifications that were signed into law by Governor Phil Murphy in August 2018. The statutory modifications are likely to impact employers throughout New Jersey.
Genesis of Confusion
For years, New Jersey employers operated under a triumvirate system concerning categories of misconduct for unemployment insurance. The three types of misconduct included:
Simple misconduct – which warranted a seven-week delay of benefits
Severe misconduct – which was determined as egregious behavior or repeated policy violations after warnings had been issued
Gross misconduct – essentially means the person committed a felony while at work
However, the notion of a separate "severe" form of misconduct was not introduced to the New Jersey Code until 2010. The separate definition of "severe" misconduct was intended to establish a harsher penalty than a finite disqualification for someone who committed simple misconduct. However, the definition of severe misconduct was found to be vague and difficult to decipher resulting in confusion among employers, attorneys, judges, etc.
Definition of Misconduct Modified
The legislature attempted to remedy the confusion by eliminating the distinction between simple misconduct and severe misconduct, effectively creating a single disqualification for misconduct. The new law, which amends N.J.S.A. § 43:21-5 of the New Jersey Unemployment Insurance Law, also modifies the misconduct disqualification timeframe to only five weeks for individuals who committed misconduct. The new definition of "misconduct" includes the following:
Behavior, aside from gross misconduct, that is improper and committed in connection with someone's work.
The improper behavior was committed maliciously and within the person's control.
The improper behavior was not a "good faith error of judgment or discretion."
The improper behavior was either a deliberate refusal to comply with their employer's lawful and reasonable rules or was a deliberate disregard of standards of behavior that the employer had a reasonable right to expect such as violating safety standards or violating prohibitions on drug and substance abuse in the workplace.
Examples of Misconduct
Some examples of behavior that would be considered "misconduct" under the new law include:
Employee's repeated failure to comply with an employer's instructions and doing so without providing good cause;
Employee falsifying an employment application;
Employee failing to disclose information that in turn created a material misrepresentation of the employee's qualifications or ability to perform a particular job;
Employee who is chronically tardy without providing good cause; and
Employee who is repeatedly absent from work without providing good cause and lacking authorization from a supervisor or manager to take off work.
Portions of Misconduct Law Remain Unchanged
The New Jersey legislature did not change misconduct laws whole cloth. For example, the burden of proof remains on the employer rather than the employee. To satisfy the burden of proof, an employer must now provide documentation showing an employee's actions met the legal threshold for simple misconduct or gross misconduct. This highlights the importance of employers maintaining proper documentation on each of their employees, especially when an incident occurs that violates company policy.
Have Questions? Speak to an Experienced New Jersey Employment Law Attorney Today
The modifications to the legal definition of misconduct carry significant implications for employer throughout New Jersey. If you have questions or are in need of legal guidance from an experienced employment law attorney, contact the office of Thomas Paschos Law & Associates P.C. to schedule an appointment today.
The articles on this blog are for informative purposes only and are no substitute for legal advice or an attorney-client relationship. If you are seeking legal advice, please contact our law firm directly.