Matter of Faith: Attorney Pinned His Legal Hopes on Art of Relationship Building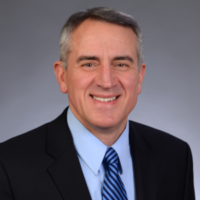 By Tom Kirvan
As published in the April 2022 Primerus Paradigm
Around the time he opened his law practice in 2000, Tom Paschos was asked if he had a business plan, the type of document designed to assure interested parties that he had a blueprint for achieving financial – and legal – success.
"Prayer," he answered.
For a man of faith, it seemed like a perfectly acceptable answer, even if his reply raised more than a few eyebrows.
"I know for a fact that my wife wasn't exactly enamored by my response," Paschos said with a hearty laugh. "I'm sure she was hoping that I had a few other thoughts in mind."
Indeed he did, principally revolving around a meaningful word that has served as one of the linchpins of his law practice – relationships.
Paschos, who was born in Greece and lived there until the age of 10, has taken pride in the relationships he has developed over the course of his 37-year legal career. In fact, those relationship bonds provided much of the impetus for his decision to open Thomas Paschos & Associates, P.C., a civil defense firm that is headquartered in Haddonfield, New Jersey with a satellite office in nearby Philadelphia.
"I've been fortunate to have forged great relationships with my clients over the years, developing a kind of kinship with them as I've handled their various legal needs," said the 61-year-old Paschos. "Creating those type of relationships, and cementing them by doing our best work possible, have been at the heart of our law firm."
His firm – and his practice in particular – specializes in "the defense of professional liability matters, corporate litigation matters, insurance coverage, employment matters, products liability, and commercial litigation," according to Paschos.
The work, he said, has been "fascinating and demanding," and can feature "cases within cases" especially when representing lawyers facing claims of legal malpractice.
"As a lawyer, defending those type of cases really resonates with me, knowing full well that the stakes are high for a client whose professional reputation and future ability to practice are being questioned," said Paschos, who earned his law degree from Temple University School of Law in 1985.
Many such cases have ended up in court, where Paschos has excelled thanks in large part to a decision early in his legal career to obtain a Master of Laws (L.L.M) in Trial Advocacy from Temple School of Law.
"There I sharpened by trial skills by learning from some of the finest practitioners in the Philadelphia legal community," Paschos indicated. "Obtaining my master's in law from Temple School of Law gave me the confidence to open my own practice. I learned from some of the best trial lawyers around, enhancing my ability to successfully navigate my way around a courtroom. I went into that program with the thought that I knew how to try a case and I left with the belief that 'I now really know how to try a case.' The difference was amazing."
Paschos was 39 when he began his firm after spending the first 15 years of his career with two "outstanding" small defense firms in Philadelphia, for whose mentorship he is "very grateful," he said.
"It was a risky proposition," Paschos said about the decision to step out on his own. "I prayed and prayed and prayed some more about it. I distinctly remember reading one of the parables about 'putting new wine into old wineskins,' which was pivotal in my decision to start anew."
It should come as no surprise that Paschos leaned on history to help with the decision, for he has had a lifelong love of the subject, fed perhaps by his early upbringing in a country steeped in ancient lore.
"Greece, of course, is the birthplace of democracy and is well known as the 'Cradle of Western Civilization,'" noted Paschos, who speaks Greek fluently. "I've always loved and been fascinated by history and the many lessons we can learn from it."
His father was a tailor in Alistrati, a small town in the Macedonia region of Greece, when in 1970 he made a life-changing decision to emigrate to the United States. The move to "find a better future" for his family in the so-called "land of opportunity" was not an easy transition. Two years after the move to the U.S., Paschos lost his mother to a brain aneurysm that claimed her life at the age of 39.
The family, which included two young sons, settled in the Delaware County community of Upper Darby, a Philadelphia suburb that bears the motto, "The World in One Place." It's an apt description for a diverse municipality that is home to more than 100 ethnic cultures.
"I was part of the high school soccer team there and it really was representative of the United Nations," Paschos said with a smile.
After receiving his high school diploma, Paschos didn't travel far to attend college, enrolling in Drexel University, a private research university in Philadelphia. It was there that he became better acquainted with his future wife, Lucy Tierney, thanks to his – and her – involvement in another sport. They had first met, through tennis, while in high school.
"We both played on the Drexel Varsity Tennis teams," said Paschos. "We both really enjoyed the sport and the competition. The fact that we eventually got married obviously was the best part of that entire experience, and of getting to know each other initially and through tennis."
While at Drexel, Paschos took part in the university's co-op program, working first for RCA and then Thomas Jefferson University Hospital.
"At both jobs, I was crunching numbers all day long," he explained. "It served as a big awakening for me, as I discovered that I was better suited for a profession where I could utilize my writing skills."
Hence the decision to attend law school, followed a year later by marriage to his beloved Drexel classmate, once she graduated from Drexel and he from law school.
"I can honestly say that I love my wife now more than ever and have been incredibly blessed by her presence in my life," said Paschos. "She is a godsend. I am so fortunate to be with her in this amazing journey we call life."
The couple has six children, one grandson, and a granddaughter who was born in late March. Their children include Mary, Joe, Catherine, and Monica, a high-achieving group that ranges in age from 18 to 33.
"They all have their special talents," Paschos said with more than hint of pride. "Most importantly, they all have their hearts and minds in the right place. They are the best part of us."
So far, none have followed their father into the legal profession, although the family patriarch is still holding out a glimmer of hope.
"Let's just say there are a couple of excellent candidates, so as not to apply any undue pressure."
Paschos, whose 94-year-old father returned to his native land upon retiring, has been active in the Greek-American community, and is a past president of the American Hellenic Lawyers Association and past national chairman of the Pan-Macedonian National Convention.
On the political front, he has been actively involved in local, state, and national election campaigns, while also utilizing his legal skills to represent "political organizations in election court matters."
At some point in the near future, Paschos is hopeful that he can share some of those courtroom skills in a trial academy he envisions for Primerus.
"I think it would be a great addition to the Primerus offerings, which as a whole have meant a tremendous amount to the success of our firm since we joined in 2008," said Paschos, who has presented numerous programs and webinars for the international alliance. "We have some of finest legal minds in the world at our reach because of Primerus, and our firm has been fortunate to benefit from and to contribute to this great Primerus alliance.
"And yes, it is a great feeling to give back freely, to refer our clients and friends to other Primerus firms throughout the country, and to give the gift of our talents, our knowledge, and our very hearts and selves," Paschos said. "It's true that it is 'better to give than to receive' and that 'we find ourselves by getting out of ourselves and helping others.'"